Sir Patrick Spens (Child #58) Block print for Anaïs Mitchell and Jefferson Hamer
$

40.00 Sold Out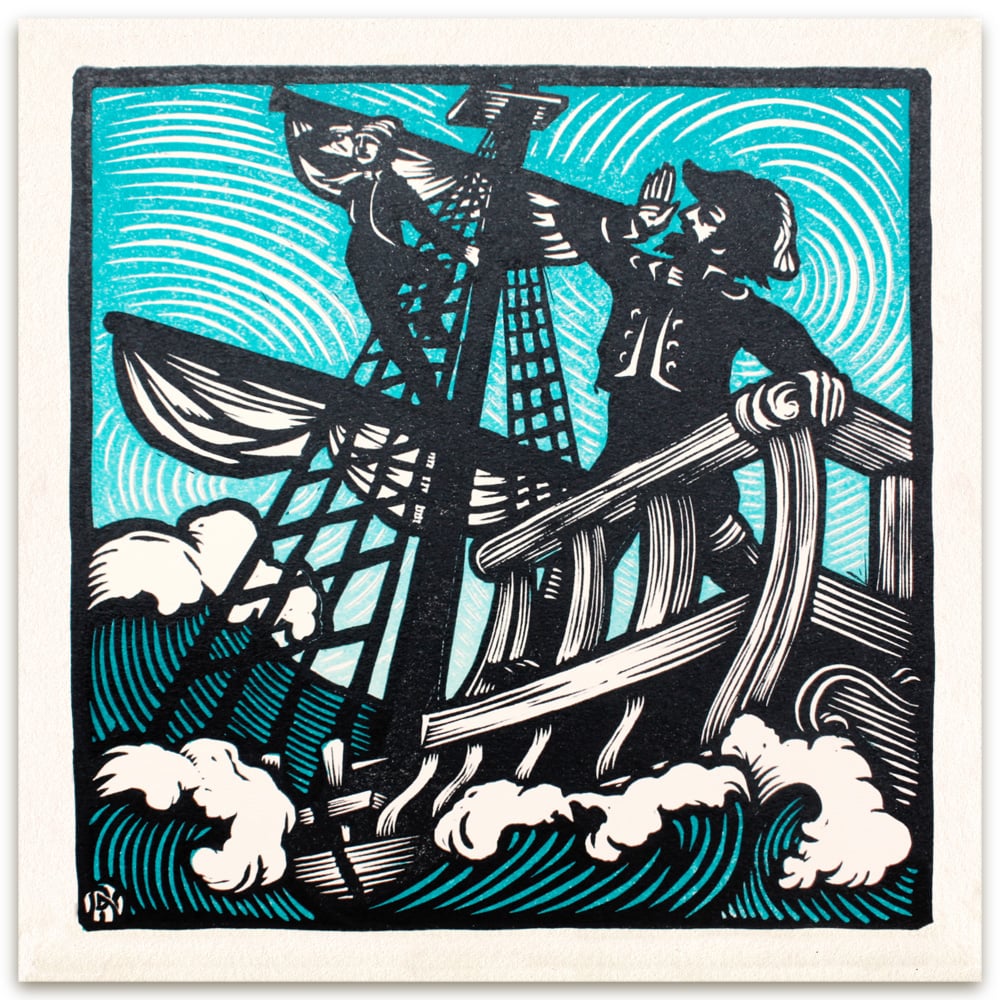 KEEP SCROLLING DOWN FOR MORE DETALED IMAGES ▼
Sold out, but coming again soon - I didn't print all 300 in the first round.

---

This is a limited edition of 300 Linocut block prints. The prints are the exact size of LP record covers (12.375"x12.375" inches) for easy framing. They were hand-printed from hand-carved blocks in 3 water-based colors onto super-heavy Forestry Stewardship Council Certified paper. And I do mean heavy! Look at the image of the sheet next to a quarter dollar.

This print was created in conjunction with Anaïs Mitchell and Jefferson Hamer's album Child Ballads (2013), which features their new arrangements of traditional English Folk ballads collected in the late 19th century by the American scholar Francis James Child.

In this ballad, the King of Scotland has called for Sir Patrick Spens, the greatest sailor in the land, to bring his new bride to him from Norway. It's the dead of winter, the worst time to sail the North Sea, but Sir Patrick is honor-bound to obey the King. He sets sail, despite the reluctance of his crew, and his own sense of foreboding.

"Who will climb the topmast high

While I take helm in hand?

Who will climb the topmast high

To see if there be dry land?"

About the edition:
It felt really good to illustrate the songs using this technique, which hasn't changed much since the songs themselves were written. The hand-carved, hand-printed look lends itself to the look of "dark epic tapestry," as Anaïs called it. Big thanks to Anaïs, Jefferson, and Anaïs' manager Liz Riches, who helped me hone the ideas.
Share